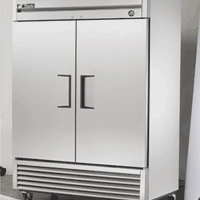 Whether air-cooled, water-cooled or walk-in, refrigeration systems should be unique to each foodservice operation
So, you need a new refrigeration system. It's not a particularly sexy appliance, but admittedly it's a key tool in any foodservice operation. Unfortunately, all too often, very little thought is given to adequate refrigeration equipment. And, although anyone retrofitting a restaurant kitchen should consult a design expert or manufacturer to get the skinny on the draws and drawbacks of the products available, below is a list of jumping-off points to kick-start the research process.
AIR COOLED VS. WATER COOLED // There are two ways to operate refrigeration units: one uses water to cool the compressors and the other employs ambient air. Each installation needs to be assessed to determine the type best suited to a particular environment, with the operator analyzing the initial cost, operating costs and maintenance costs. Generally speaking, unless air-cooled units are meticulously maintained, they often require more repairs and will likely need to be replaced before water-cooled units. Another drawback, is air-cooled units do not operate well in extreme temperatures, so the ambient air must be tempered (heated or cooled) for optimal operation, which can be expensive — although water costs for watercooled units can be significant, too. Air-cooled units can also radiate a great deal of heat, and if they are in a small enclosed space this will affect performance and operating costs. Alternately, some jurisdictions limit the use of water-cooled units, which are likely to be required to drain into storm sewers rather than sanitary drains. Where buildings have a "chilled water system," attaching refrigeration systems can provide efficiencies and help meet local restrictions on water consumption for refrigeration purposes.
WALK-IN VS. REACH-IN // Walk-in refrigerators are generally designed to accommodate bulk storage and the contents should not be continually exposed to a hot humid kitchen. It's best to limit the frequency of access and purchase as any walkin and reach-in refrigerators as needed. This may cost more initially, but the expense will be offset by reduced operating and repair costs as well as increased labour efficiencies. Some walk-in refrigerators can be equipped with reach-in door panels  on one or two sides to provide easy access during peak periods, but this is only advantageous if the doors are easily accessible to work areas.
BLAST CHILLERS AND FREEZERS // Avoid using standard refrigerators or freezers when cooling large quantities of food that need to be chilled or frozen for storage. Not only does it make the machine work harder than what it was designed for, but it also has a serious effect on the quality and shelf life of chilled products. That's where specially designed blast chillers and blast freezers come into play, offering tremendous energy savings in the long-run and ensuring chilled or frozen products are brought through the temperature danger zone within the time guidelines prescribed by governing codes.
DUAL-TEMP UNITS // In many operations refrigeration requirements can change with menu fluctuations, seasonal promotions and product availability, so it may be necessary to frequently increase refrigeration and freezer capacity. It's the reason manufacturers developed dual-temp reach-in units, which are flexible and can be switched from refrigeration to freezer at the flip of a switch.
SPECIALTY REFRIGERATION // Since not all food can be stored at the same temperature and humidity levels, it might be wise to purchase specialty units. For example, fresh produce should be stored at about 45°F and fresh meats should be stored at 33°F to 35°F, so it's best to have one unit for each. Fresh fish and seafood should be refrigerated on ice, ideally in a drawer-type unit with specially fitted drainage pans, which allow water to drain as the ice melts. If storing delicate cakes and pastries, which dry out quickly then exposed, a low velocity coil is necessary to reduce air flow, minimizing the drying effect. Highly acidic foods such as salad dressings and pickling brines will corrode ordinary coils very quickly, so if you are storing large amounts of these products, look for specially coated coils.
SIZE // It's true: size matters. The dimensions of a refrigerating system need to be carefully calculated, taking into  count factors such as the hours of operation during a 24-hour period of the establishment in which it will be operating. Next, the type and temperature of product being stored is a critical factor; if warm or room-temperature products are constantly put into the unit, it will need to work harder to cool them. Inventory levels also play an important role in determining the size of the units — the more information you can give the manufacturer the better.
FINISH // Stainless steel is a favourite style,  but what about the function? Durability and ease of cleaning are two important issues to consider when choosing from the various finishes on the market. All interior finishes should be easily sanitized, especially for storing highly perishable food such as produce or baked goods. The build up of bacteria and decay-producing organisms on refrigerator walls will reduce a product's shelf life, so being able to effectively sanitize the walls is critical to reducing spoilage.
If mobile carts are used frequently, interior and exterior bumper guards are a  worthwhile investment since they protect the finishes. Similarly, door-kick plates are worthwhile in most installations.
Adequate lighting is important for safety and sanitation, since it's much easier to clean what you can see. All conduits for lights should be external since internal conduits collect dirt easily. Openings for lights and pipes as well as seams in the panels must be properly sealed with silicone or approved gaskets to maintain energy efficiency.
HARDWARE // Consider the type of hardware that fits your operation. Items such as hinges, automatic door closures,  locks and gauges need to be assessed based on needs. If security is important, then good quality locks need to be purchased and properly installed. Accurate temperature gauges, and in some instances alarms, which go off if a pre-set temperature is reached, can save money and are more convenient.
APPROVALS // Most refrigeration manufacturers and installers deal exclusively with approved units. That's why it's  important to check approvals and compliance with local codes and regulations, which vary by province and municipality. A big red-flag issue is the local regulations for CFC-free (chloro-fluorocarbon) coolants, so check local codes and  regulations before making a purchase. And, finally, watch for limitations on the type of insulation in panels for walk-in units. To be safe, learn local regulations or hire a specialist.
INSTALLATION // It's hard to believe, but proper installation is often overlooked even though there are many factors to consider. For example, level surfaces are integral to installing a walk-in box unit, and floor drains should be in line with drain pipes to avoid expensive plumbing bills. Also ensure panels fit through door openings and conduits and piping are installed outside the box to allow for clean walls and adequate shelving. And, although compressors mounted on top of the boxes make for a cheaper installation, they can be difficult to maintain and repair. Remote compressors (preferably installed in one central location) allow for easier access during routine maintenance. Lastly, properly prepared floors are integral to good installation, especially with walk-in freezers. Whether the underslab is insulated from below or a floor is built on the slab with external or internal ramps is purely a matter of cost and efficiency of construction.
WARRANTIES // As a rule, most manufacturers provide a 12-month warranty on refrigeration units and a five-year warranty on the compressor motor. Since the bulk of the cost is the compressor and coil, it is usually not advisable to purchase second-hand refrigeration unless absolutely certain of its condition. Such a purchase isn't likely to cut costs in the long-term since the savings realized in buying used refrigeration is usually lost in higher repair and maintenance bills, as well as the expense of having the unit dismantled, moved and re-assembled.